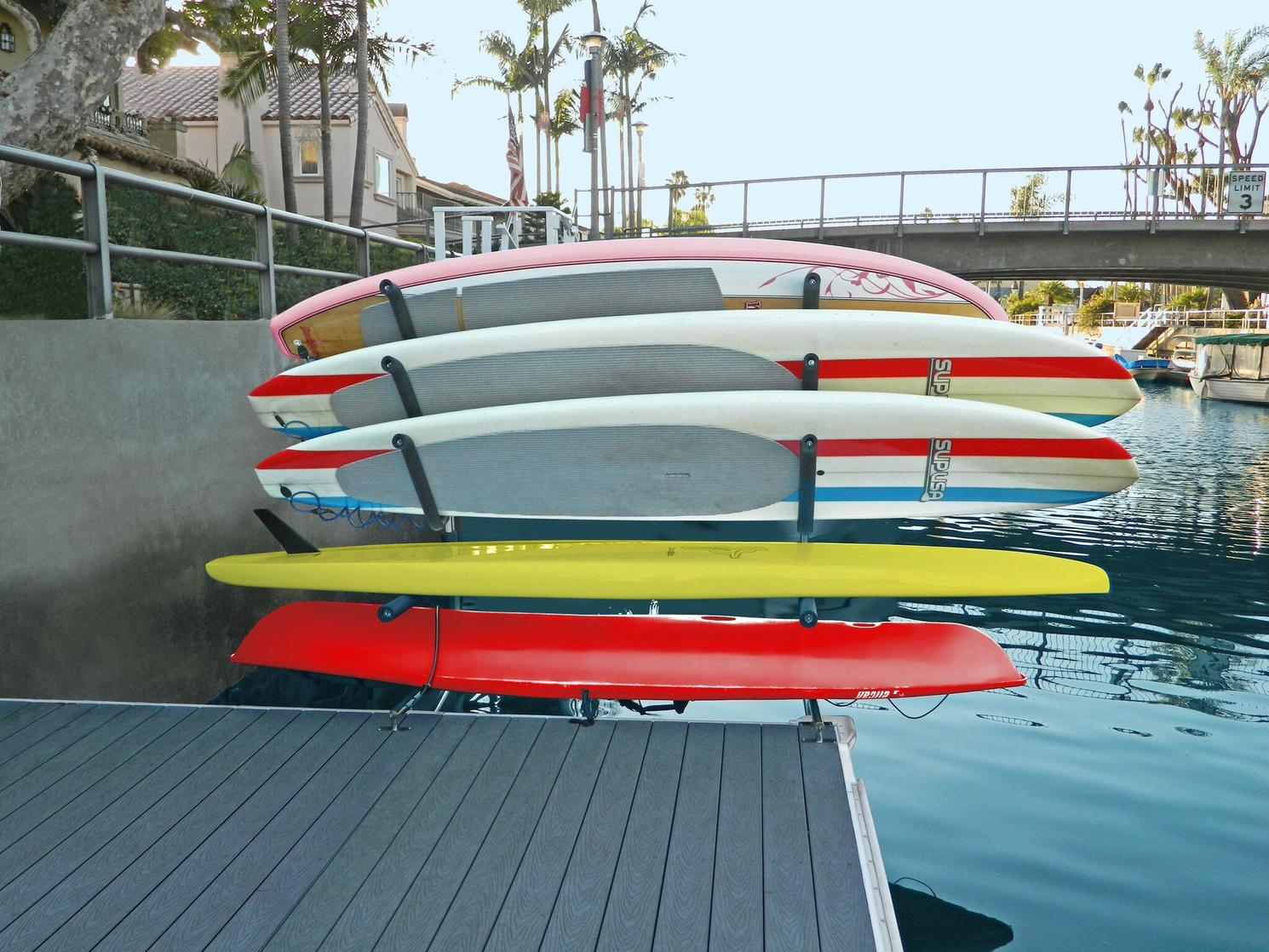 Condition: New vehicle
Manufacturer: Magma
Model: SUP Rack - Over the Water with 2 sets Straight Arms
Year: 2023
Stock #: SUP RACK OVW2ST
Type: SUP & Kayak racks
Notes:
OVER THE WATER BASIC UPRIGHT RACK SYSTEM plus TWO STRAIGHT ARM SETS

STORAGE RACK FOR YOUR KAYAK OR SUP, a great addition to keep these handy lakeside but also keep the deck of your dock vacant of clutter.

THE OVER THE WATER design makes convenient storage without using valuable floor space and includes two 64 in. (162.6 cm) uprights and two 30 in. (76.2 cm) straight base support arms with UV-resistant foam pads with heavy duty UV resistant 600D Polyester protective covers

NO MORE LUGGING AROUND YOUR HEAVY KAYAK OR SUP after a long day on the water. With Magma's Over the Water Kayak/SUP Storage Rack System your problems are solved.

THIS RACK HAS BEEN SPECIFICALLY DESIGNED TO SAVE THAT VALUABLE DOCK SPACE while allowing you easy and convenient access to your water toys.

BUILDING THE RACK SYSTEM IS SIMPLE: start with the base rack, R10-1003-64, and purchase the specific arms separately that best fit your needs. Rack arms are constructed from 304 Mirror Polished Marine Grade Stainless Steel tubing and are available in either straight, 30" x 1-1/2" Dia., R10-1010-30, or 36" x 1-1/2" Dia., R10-1010-36, for Kayak's and water toys, or angled, 1" Dia., R10-1020, for SUP's / Board's.

FULLY ASSEMBLED THIS RACK CAN HOLD up to 4 Kayaks and 5 SUP's or any combination of both.

THE BASE RACK IS DESIGNED TO BE MOUNTED DIRECTLY TO ANY DOCK. Need a new dock to mount this rack to? Anstruther Marina carpentry team builds beautiful docks and can incorporate this rack into the design.

THIS PACKAGE comes with the over the water base plus two 30" Straight arm sets (each set has two arms). Additional 30" arm sets are $129, additional 36" arm sets are $129 and angled arm sets are $149.

ANSTRUTHER MARINA is family owned and operated and is located in Apsley, about an hour north of Peterborough. Call 705-656-4783.