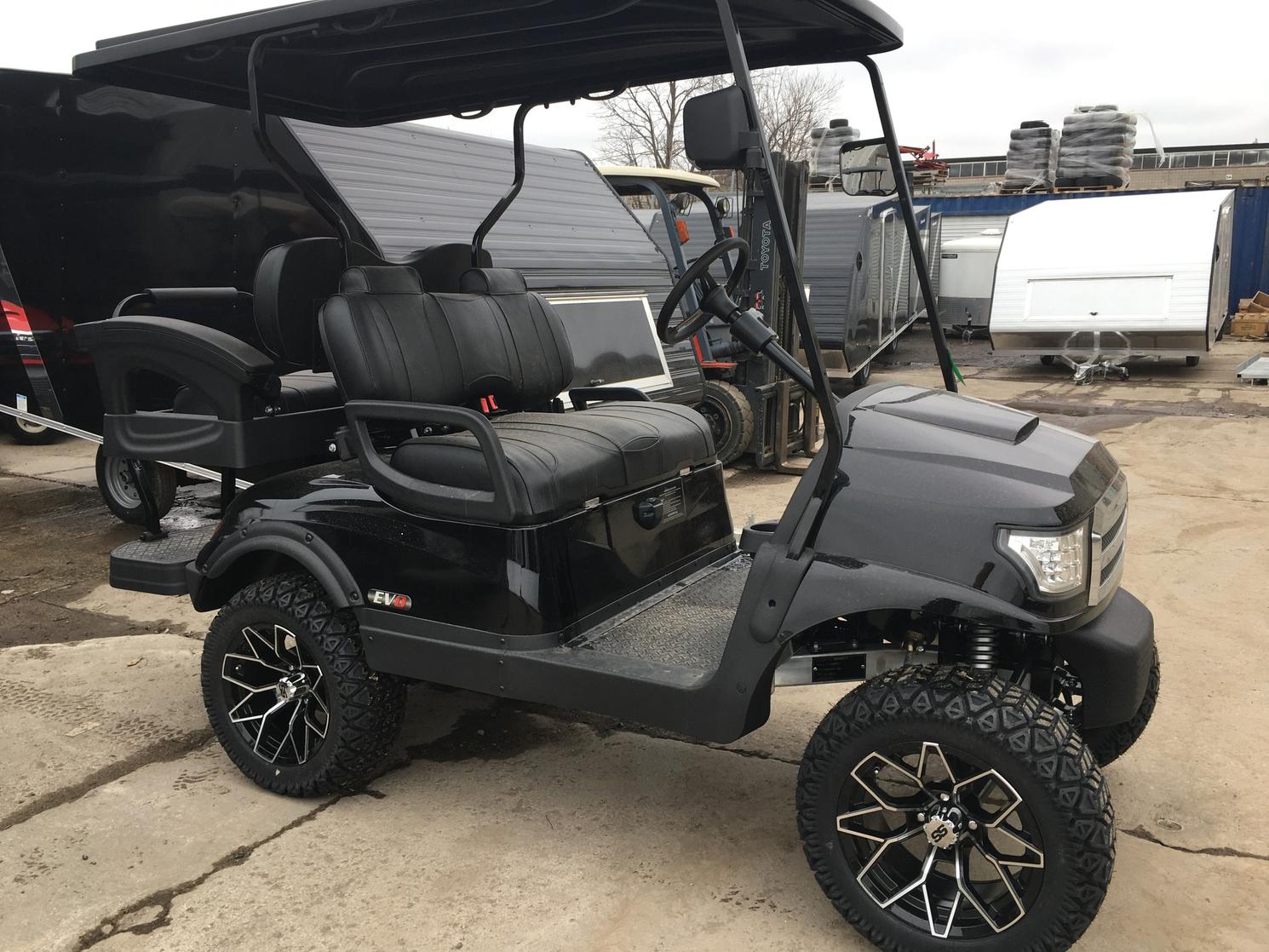 Condition: New vehicle
Manufacturer: Excalibur Golf Carts
Model: Electric Lithium
Year: 2023
Stock #: GOLF CART 23
Type: Sides-by-sides
Exterior colour: Black
Fuel: Electric
Notes:
IF YOU'RE LOOKING FOR A PREMIUM HIGH END CUSTOM GOLF CART... THE SEARCH IS OVER!

EXCALIBUR ELECTRIC GOLF CARTS ARE CUSTOM ASSEMBLED using all the popular high quality drive line & upgrade accessories available in today's marketplace.

EXCALIBUR STARTS WITH A CUSTOM DESIGNED ROLLING CHASSIS which incorporates all the best features and proven technology of today's popular fleet carts (such as Club Car Precedent, Yamaha Drive & EZGO RXV).

BUILT ON A FORMED ALUMINUM RECTANGULAR TUBE FRAMED CHASSIS, the Excalibur design incorporates a 4 wheel Heavy Duty Suspension which is ultimately powered with a 48V A/C drive system using a Premium LITHIUM Battery, optional programmable High Amperage controller and a 4KW AC High Torque motor.

STARTING WITH A CUSTOM BODY KIT, Excalibur then add a MASSIVE list of premium options and accessories such as a full Street Package (Turn & Brake Signals + Horn) Premium Rear Seat Kit, Comfort Formed Seat Cushions, Extended Roof, Seat Kit Storage Cooler, 14" Custom Aluminum Wheels, Textured Rubber Mat, Premium Steering Wheel, Side Mirrors, 48V to 12V Voltage Reducer for all your add on accessories, Split Folding Windshield, Exclusive Custom LCD Dash with Speedometer, Battery Meter & Warning Lights, and a rear-view Backup Camera with Colour Display.

FEATURES:
- Voltage Reducer
- LED Headlights, Brake Lights and Sequential Turn Signals
- 14 Inch Custom Aluminum Wheels
- Textured Floor Mat
- Split Folding Windshield
- UTV Style Side Mirrors
- Premium Rear Seat Kit
- Cooler / Storage Bucket
- Comfort Formed Seat Cushions
- Extended Roof
- LCD Dash with Speedometer, Battery Meter and Warning Lights
- Full Street Package with Turn Signals, Brake Lights and Horn
- Custom Steering Wheel
- Full 48V A/C Drive System with High Amperage A/C Controller
- Premium LITHIUM Battery
- Electronic Intelligent Charger
- Rear-View Backup Camera with Colour Display
- 1 Year Warranty against any manufacturer defect

PRICE FOR THIS GOLF CART IS SAME AT ANSTRUTHER MARINA AS AT THE FACTORY. LIMITED INVENTORY is available for 2023 so call to reserve now.

ANSTRUTHER MARINA IS your Powersports dealer in Apsley. Call Mark at 705-656-4783 for details.