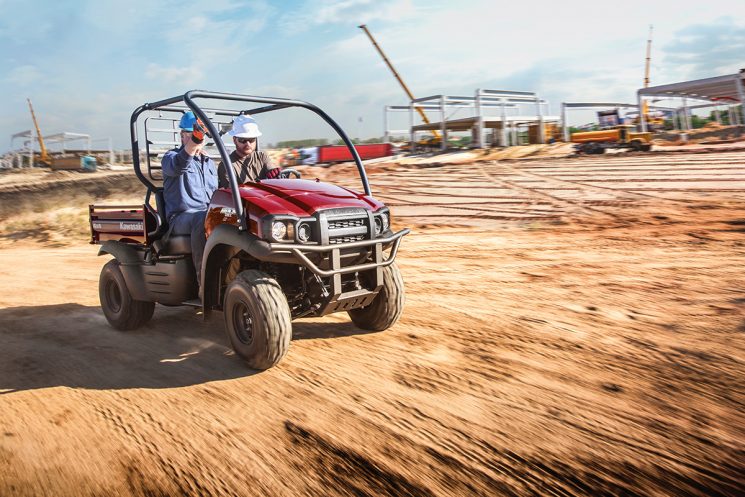 Our very last Kawasaki Mule was sold today to Kevin.
Like all the others sold recently, Kevin's Mule hasn't even arrived yet. 2021 is the year of purchases without touching / sitting in / seeing the purchase in-person. This is all driven by consumer demand.
This was a big decision, with the accessories, this purchase was close to 20K and was all done over the phone with only photos and a description through conversation. Kevin knew that if he was to wait until this Mule arrived, it would have had someone else's name on it. There were 6 messages from other people also interested in this Mule if he had decided to not buy it.
Kevin is a happy guy and has accessorized his Mule with a winch, a windshield, a roof and even a rearview mirror. We're pretty sure that Kevin will spend the evening googling and youtubing Mules to learn more about his new toy.   
So … What IS a Mule? 
While the Kawasaki Mule is not a cousin of the horse, it also did not adapt the name of the mule animal either. And while Kawasaki's Mule can be absolutely described as a 'workhorse', it's name is an acronym for M ulti- mate mate mate mate U se- L ightweight- E quipment vehicle. 
Mules are used for hauling firewood, hay, tools and anything else you might need to move around your property. It has a steel dump box, not plastic like other brands. This means the box will have a longer life. Add a winch and it can do more. Add a plow and it will help you take care of the snow. Tired of work? Take your Mule on the trails for some fun too.
Want a Mule? Want a Teryx?
Not everyone can be a 'Kevin' … getting the last one before they are all sold out. While we do not have pricing yet, best to call to reserve for the fall to ensure you get your choice machine because at the buying pace of the consumer, we expect all of our fall units will be sold before they arrive. Call us at 705-656-4783 to reserve yours.