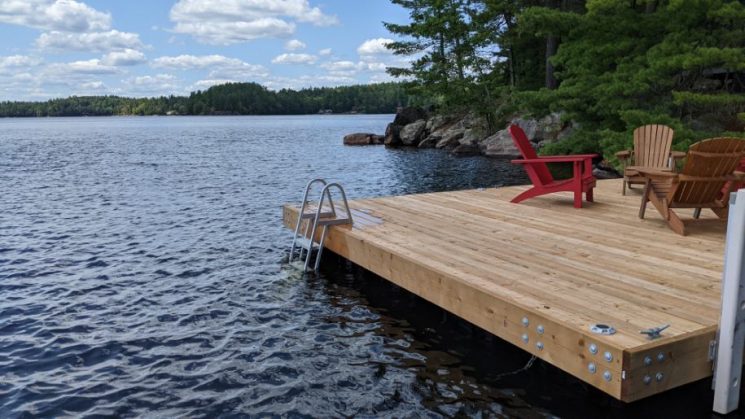 Finally the dock ladders have arrived!  Many products in our summer inventory has been late to arrive and this is the one product that customers have been the most anxious to get.
You won't likely find a better deal, we got special pricing on our ALUMINUM DOCK LADDER with 5 STEPS.
GO JUMP IN THE LAKE! You can climb back out very easily on this 5 step aluminum dock ladder. Your dock does not have to be utilitarian, it CAN be more than just for tying up your boat. Get the kids in the water, that's what spending time at the cottage is all about.
THIS 5 STEP DOCK LADDER can be mounted to pretty much any dock whether aluminum or wood. The wide steps on this ladder are comfortable on your feet when climbing down to the water and getting back out of the water, most ladders have narrower steps making it uncomfortable on the feet.
THIS PROMOTIONAL PRICING IS ONLY AVAILABLE FOR A LIMITED TIME...compare and save, you could save as much as 40% by buying your new ladder at Anstruther Marina, you'll find a similar ladder priced at over $300 at a big box store.
ANSTRUTHER MARINA is located in Apsley, about an hour north of Peterborough. These ladders are in stock at both our Showroom on Hwy 28 as well as our Lakeside location.